From Single Market to Economic Union: Essays in Memory of John A. Usher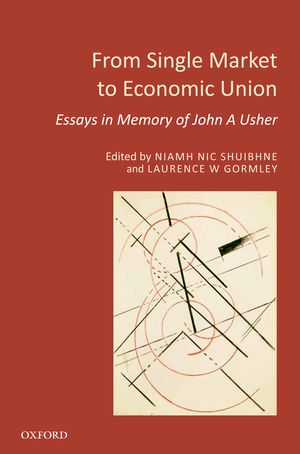 ISBN13: 9780199695706
Published: June 2012
Publisher: Oxford University Press
Country of Publication: UK
Format: Hardback
Price: £102.50

Despatched in 3 to 5 days.
The path from single market to economic union is a continuing, and controversial, story; raising questions about the present and future regulation, structures, and purpose of economic union within the broader objectives of the EU legal and political order
This collection focuses on the evolution and regulation of the EU as an economic union, in tribute to the scholarship of the late Professor John A Usher.
The process of treaty reform within the EU has now reached fruition and attention is being re-focused on substantive aspects of EU law and policy. The essays in the collection consider the EU internal market in its broadest sense: the fundamental free movement provisions remain at the core, but the concept of the transnational market must also accommodate competing interests to which the EU is committed but the implications of which can nonetheless distort, and thus need to be carefully balanced within, the basic free trade framework (for example, intellectual property rights and the protection of innovation, and also the implementation of social policy objectives).
The collection also situates the market in its broader politico-economic context. The global economic climate remains precarious and questions about optimal financial and fiscal regulation, and monetary stability, remain critically significant, especially in a transnational context given the degree of inter-dependency generated by the EU integration project.
The essays in the collection offer in-depth reflections on different 'parts' of this evolving transnational economic union, linked together as a whole by cross-cutting thematic concerns about competence and regulation, and about where and how the economic law of the EU fits within the broader integration narrative.
Together, these different elements of the proposed collection demonstrate the different facets of EU economic law and its regulation; and this approach, in turn, reflects the extraordinary breadth of John Usher's remarkable contribution to scholarship.