Litigating War: Mass Civil Injury and the Eritrea-Ethiopia Claims Commission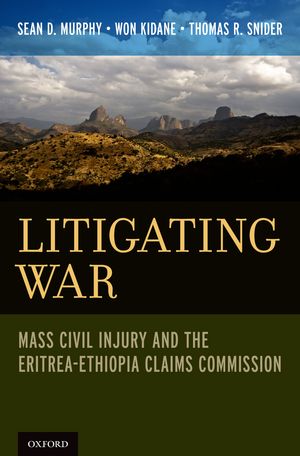 ISBN13: 9780199793723
Published: May 2013
Publisher: Oxford University Press USA
Country of Publication: USA
Format: Hardback
Price: £190.00

Despatched in 6 to 8 days.
Litigating War offers an in-depth examination of the law and procedure of the Eritrea-Ethiopia Claims Commission, which was tasked with deciding, through binding arbitration, claims for losses, damages, and injuries resulting from the 1998-2000 Eritrean-Ethiopian war. After providing an overview of the war, the authors describe how the Commission was established, its jurisdiction, the sources of law it applied, its treatment of nationality and evidentiary issues, and the relief it rendered. Separate chapters then address particular topics, such as the initiation of the war, battlefield conduct, belligerent occupation, aerial bombardment, prisoners of war, enemy aliens and their property, diplomats and diplomatic property, and general economic loss. A final chapter examines the lessons that might be learned from the experience of the Claims Commission, especially with an eye to the establishment of such commissions in the future.
The volume includes a preface from James Crawford and also reproduces all the key documents relating to the Commission: the bilateral agreement establishing the Commission; its rules of procedure; and its numerous decisions and arbitral awards. The analytical portion of the volume contains extensive cross-references to these primary documents. Further, a comprehensive table of contents and indexes relating to subject matter, treaties, and cases provide ready access to all the material contained within.