Nuclear Weapons Counterproliferation: A New Grand Bargain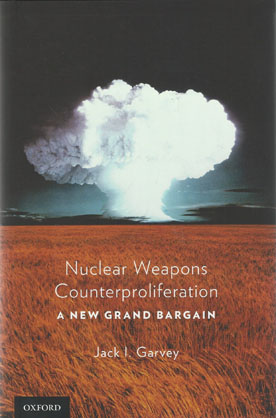 ISBN13: 9780199841271
Published: May 2013
Publisher: Oxford University Press USA
Country of Publication: USA
Format: Hardback
Price: £72.00

Despatched in 7 to 9 days.
Nuclear Weapons Counterproliferation: A New Grand Bargain proposes a new legal and institutional framework for counterproliferation of nuclear weapons. Its proposal is designed to remedy the widely acknowledged breakdown of the architecture of the Nuclear Non-Proliferation Treaty on which we can no longer rely for global nuclear security. First, Nuclear Weapons Counterproliferation defines the distinctively dangerous character of contemporary nuclear risk and explains why the Nuclear Non-Proliferation Treaty no longer provides a viable foundation for counterproliferation of nuclear weapons. It then sets out the reforms needed in order to limit the radical increase in availability, for rogue governments and terrorists, of nuclear weapons related material and technology.
Garvey then proposes a new counterproliferation architecture, to be built on presently available scientific, legal, and institutional resources, which could achieve a critical reduction of nuclear risk and an expanded deterrence. Guiding principles for establishing this new architecture are formulated, including, most importantly, the principal mechanism for implementation, a proposed United Nations Security Council Counterproliferation Resolution applying equally for all states. This book presents what may be our best opportunity to secure a profoundly more effective global nuclear security and counter the world's current course to a catastrophic nuclear detonation.