American Legal Profession in Crisis: Resistance and Responses to Change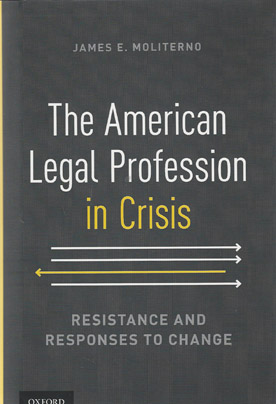 ISBN13: 9780199917631
Published: April 2013
Publisher: Oxford University Press USA
Country of Publication: USA
Format: Hardback
Price: £72.00

Despatched in 6 to 8 days.
Central to the identity of the American legal profession are its systems of self-regulation. Throughout history, the legal profession has tried to hold tight to its traditional values and structure during times of self-identified crisis.
The American Legal Profession in Crisis: Resistance and Responses to Change analyzes the efforts of the legal profession to protect and maintain the status quo even as the world around it changed. James E. Moliterno argues that with striking consistency, the profession has resisted the societal change happening around it, and sought to ban or discourage new models of legal representation created by such change. In response to every crisis, lawyers asked: "How can we stay even more 'the same' than we already are?" The legal profession has been an unwilling, capitulating entity to any transformation wrought by the overwhelming tide of change.
Any proactive changes were mostly levied against the newest members of the legal community in order to preserve the status quo, so that when the legal profession did have to change, it did so only because the changes in society, culture, technology, economics, and globalization could not be denied.
This book will demonstrate how the profession has held to its anachronistic ways at key crisis points in US history: Watergate, communist infiltration, arrival of waves of immigrants, the litigation explosion, the civility crisis, and the current economic crisis that blends with dramatic changes in technology and communications and globalization.
Ultimately, the author urges the profession to look outward and forward to find in society and culture the causes and connections with these periodic crises. Doing so would allow the profession to grow with the society, solve problems with, rather than against, the flow of society, and be more attuned to the very society the profession claims to serve.