The Common Law in Colonial America: Volume II: The Middle Colonies and the Carolinas, 1660-1730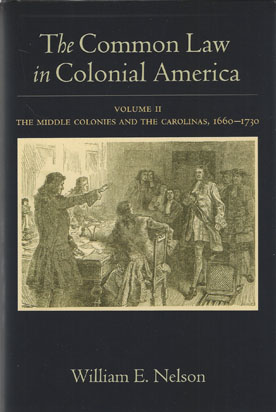 ISBN13: 9780199937752
Published: February 2013
Publisher: Oxford University Press
Country of Publication: USA
Format: Hardback
Price: £33.49

Despatched in 5 to 7 days.
William E. Nelson's first volume of the four-volume The Common Law of Colonial America (2008) established a new benchmark for study of colonial era legal history.
Drawing from both a rich archival base and existing scholarship on the topic, the first volume demonstrated how the legal systems of Britain's thirteen North American colonies-each of which had unique economies, political structures, and religious institutions -slowly converged into a common law order that differed substantially from English common law.
The first volume focused on how the legal systems of the Chesapeake colonies--Virginia and Maryland--contrasted with those of the New England colonies and traced these dissimilarities from the initial settlement of America until approximately 1660.
In this new volume, Nelson brings the discussion forward, covering the years from 1660, which saw the Restoration of the British monarchy, to 1730. In particular, he analyzes the impact that an increasingly powerful British government had on the evolution of the common law in the New World. As the reach of the Crown extended, Britain imposed far more restrictions than before on the new colonies it had chartered in the Carolinas and the middle Atlantic region.
The government's intent was to ensure that colonies' laws would align more tightly with British law. Nelson examines how the newfound coherence in British colonial policy led these new colonies to develop common law systems that corresponded more closely with one another, eliminating much of the variation that socio-economic differences had created in the earliest colonies. As this volume reveals, these trends in governance ultimately resulted in a tension between top-down pressures from Britain for a more uniform system of laws and bottom-up pressures from colonists to develop their own common law norms and preserve their own distinctive societies.
Authoritative and deeply researched, the volumes in The Common Law of Colonial America will become the foundational resource for anyone interested the history of American law before the Revolution.