The Tough Luck Constitution and the Assault on Healthcare Reform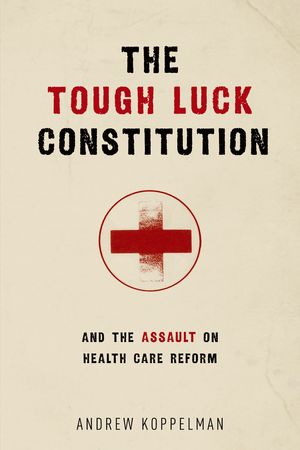 ISBN13: 9780199970025
Published: April 2013
Publisher: Oxford University Press USA
Country of Publication: USA
Format: Hardback
Price: £14.99

Despatched in 6 to 8 days.
The legal challenge to the Affordable Care Act, and the Supreme Court's decision to uphold the law, is quite possibly the most momentous Supreme Court case on the issue of federal power in our era. Yet, despite the Court's ruling, the issue of health care reform is still an incredibly divisive issue. For the left, the federal government has the power to regulate interstate commerce, and the health insurance industry surely falls under the definition of interstate commerce. For conservatives, the individual mandate is the core of the plan, and it represents an egregious erosion of individual rights and liberties.
Andrew Koppelman, a leading constitutional scholar and an expert on the issue, thinks that the constitutional arguments against it are spurious, and in The Tough Luck Constitution and the Assault on Health Care Reform, explains why. After walking readers through the 125-year modern history of Supreme Court cases dealing with the regulation of commerce, Koppelman tackles the arguments for and against the law. He contends that the New Deal established that that federal government had broad power over interstate commerce. If most commerce in a modern, complex economy like the US amounts to interstate commerce-as case law currently holds--then surely health care, which constitutes one sixth of the economy and is dominated by an insurance industry that crosses state lines, is interstate commerce too. Koppelman's book closes with an analysis of the final decision. The Tough Luck Constitution and the Assault on Health Care Reform is an authoritative account of the issue-one that not only carries great implications for the upcoming presidential election, but which also serves as a definitive analysis for years to come.