Chorley & Giles: Shipping Law 8th ed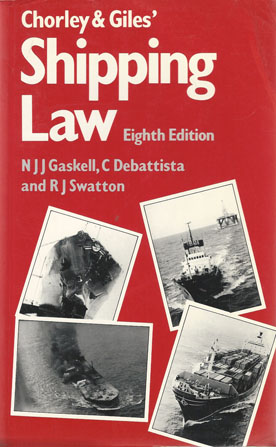 ISBN13: 9780273021940
ISBN: 027302194X
Published: April 1987
Publisher: Pearson Education Ltd
Country of Publication: UK
Format: Paperback
Price: £60.99

Chorley and Giles' Shipping Law was originally published for students of commerce and employees in shipping offices and is now in its eighth edition. This edition is the first for which the late Lord Chorley and O.C. Giles are not directly responsible. Their invaluable imprint, however, survives on the pages of the work, now invigorated by the input of three writers from the University of Southampton.
Currently used extensively by teachers, students and practitioners of maritme law this text has been revised, with five years' change in case law, statutes and commercial practice. This is the only major student textbook to deal comprehensively with the law relating to ownership and registration of ships, the running of ships, and marine insurance within one volume.
It is aimed at LLB students taking maritme law options in universities and polytechnics as well as those on postgraduate courses in international shipping, and international trade. This book is recommended by the Chartered Institute of Shipbrokers and the Institute of Freight Forwarders. It is also a work of first reference for practitioners.