Lowering the Bar: Lawyer Jokes and Legal Culture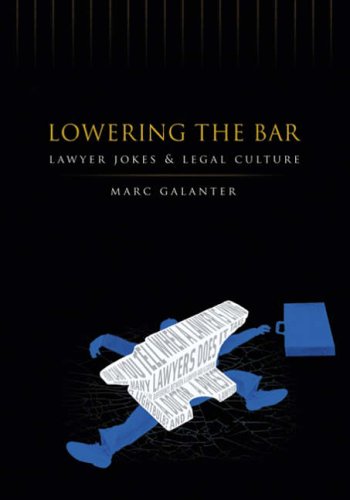 ISBN13: 9780299213503
ISBN: 0299213501
Published: November 2005
Publisher: University of Wisconsin Press
Country of Publication: USA
Format: Hardback
Price: £32.95

What do you call 600 lawyers at the bottom of the sea? Marc Galanter calls it an opportunity to investigate the meanings of a rich and time-honored genre of American humor: lawyer jokes. "Lowering the Bar" analyzes hundreds of jokes from Mark Twain classics to contemporary anecdotes about Dan Quayle, Johnnie Cochran, and Kenneth Starr.
Drawing on representations of law and lawyers in the mass media, political discourse, and public opinion surveys, Galanter finds that the increasing reliance on law has coexisted uneasily with anxiety about the "legalization" of society. Informative and always entertaining, his book explores the tensions between Americans' deep-seated belief in the law and their ambivalence about lawyers.
—excerpts from Lowering the Bar
"An ancient, nearly blind old woman retained the local lawyer to draft her last will and testament, for which he charged her two hundred dollars. As she rose to leave, she took the money out of her purse and handed it to him, enclosing a third hundred dollar bill by mistake. Immediately the attorney realised he was faced with a crushing ethical question: Should he tell his partner?"
"Q: How many lawyers does it take to change a light bulb? A: How many can you afford?"