Cases and Materials on Constitutional Law, Themes for the Constitution's Third Century 5th ed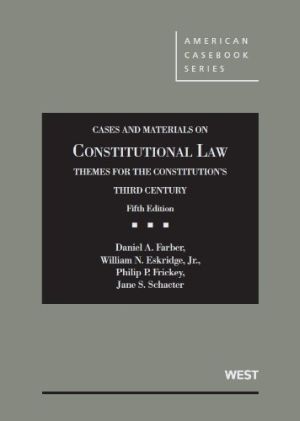 ISBN13: 9780314278302
Published: July 2013
Publisher: West Academic Publishing
Country of Publication: USA
Price: £239.00

Despatched in 11 to 13 days.
The new edition of Farber, Eskridge, Frickey and Schacter's Cases and Materials on Constitutional Law exploits the two most exciting developments in Constitutional Law teaching in the last thirty years: the judiciary's dramatic engagement with social movements and key political debates, and academic and judicial deployment of original meaning as a central methodology. Thus, the new edition presents a most systematic introduction of original meaning methodology for law students, starting with the evolution of "originalism" in response to the academic debates over Brown v. Board of Education, and continuing with in-depth examination of what original meaning teaches us about the Fourteenth Amendment, as well as the First and Second Amendments, the Commerce Clause and other authorizations for congressional regulation, the federalist structure of the Constitution, and the separation of powers.
The new edition provides in-depth treatment of the most exciting issues in constitutional law today—including the validity of affirmative action, exemplified by state discriminations based upon sexuality or gender; the imperial First Amendment, threatening to impose a new Lochner-type era of judicial review of economic legislation; the increasingly prominent federalism limitations on congressional and state authority, powerfully illustrated by the ObamaCare Case and the Arizona Immigration Case; and the limitations on the imperial presidency posed by the War on Terror Cases.