I Spy Blue: The Police and Crime in the City of London from Elizabeth I to Victoria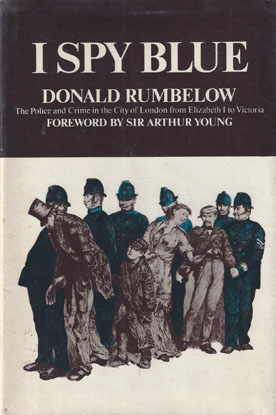 ISBN13: 9780333106525
ISBN: 0333106520
Published: July 1971
Publisher: Macmillan & Co Ltd
Country of Publication: UK
Format: Hardback
Price: £15.00
(Second Hand)

Out of Print
I Spy Blue, I Spy Black I Spy a Peeler in a shiny hat.
In the Elizabethan City the Provost Marshal hanged offenders from a portable gallows. For nearly two hundred years his successors, the City Marshals, escorted the condemned carts from Newgate gaol to Tyburn.
In the nineteenth century they rode around the scaffold on execution morning carrying a silver gilt mace, in a scarlet tunic wi th gold epaulettes and on a horse with a leopard-skin saddle cloth.
I Spy Blue is the first full history of the police and crime in the City of London. Beginning with the Privy Pykers nailed by the ears to the Cheapside pillory, Donald Rumbelow shows how, in spite of being hamstrung by the powerful ward committees and by the unwillingness of the citizens to help them, the City Marshals tried to suppress the sanctuary men and swaggering bullies of Stuart and Hanoverian London.
Backing them were the watchmen, old weak men, generally the cheapest labour that could be hired, who at night wandered through the streets with rusty halberds in their hands, lighting lords to brothels or taking bribes, or sleeping in their watch boxes.
From completely new and unpublished material Mr Rumbelow shows how the police and crime grew side by side out of the stews and slums in the heart of London, and how, when the City became bankrupt and the Marshal's offices had been sold to pay off debts, they were auctioned to the highest bidders and became investments for exploiting crime.
One Marshal boasted that he had over two thousand thieves working for him. His marshalman was the later self-styled 'Thief-Taker General of Great Britain and Ireland', Jonathan Wild. In 1780 the Gordon Riots, the burning of Newgate and the frenzied mob attacks on the Bank of England, led to the beginnings of police reform.
In 1839 the City's Day Police and Nightly Watch became the City of London Police. The Dickensian thieves' kitchens that thrived in the City had to be tackled by the first Commissioner, Daniel Whittle Harvey who at one time, when he owned the Sunday Times, had been imprisoned for libelling George IV, and had been ousted from Parliament because of his powerful oratory.
His men had to live side by side with the thieves they hunted, in appalling squalor and misery - frequently they were half starved because they did not have enough to live on. Yet in their top hats and blue frock coats, unarmed except for a small painted truncheon, they slowly brought order to the squalid lodging houses in Field Lane, the infested streets of beggars and boy pickpockets, the workhouses, and to , Newgate on execution morning in the shadow of St Paul's Cathedral.