International Banking Law and Regulation 2015 1ed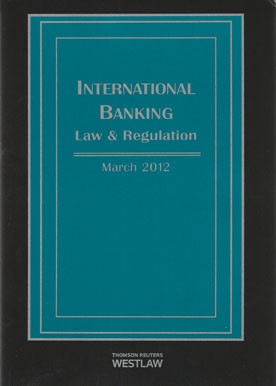 ISBN13: 9780379012866
Published: March 2015
Publisher: West Publishing Co.
Country of Publication: USA
Format: Paperback, 2 Volumes
Price: Price on Application

An international team of recognized experts in 60 jurisdictions create a comprehensive resource on international banking law and regulation. These specialists explore:-
local regulatory bodies and the banking system;
chartering or licensing of banks within the jurisdiction;
regulatory and supervisory rules for banks;
banking reform legislation enacted to facilitate changes or restructuring;
international harmonization efforts towards the potential international convergence of bank supervisory standards and local recognition of international banking standards.
Easily answer these banking questions: What is the German threshold percentage for reporting substantial losses? How detailed is the application process for a bank or trust company licensed in the Cayman Islands? What are the restrictions on transfers of large sums of foreign currency in Malta? What are the permitted activities for banks in Belgium? What is the minimum capital percentage to be classified as solvent in Indonesia?
This 2-volume set completely replaces the previous looseleaf work, which was first issued by Oceana and later by Oxford University Press. A new edition is issued twice per annum. Please contact Wildy & Sons for details of the latest edition