Global Climate Change: Australian Law and Policy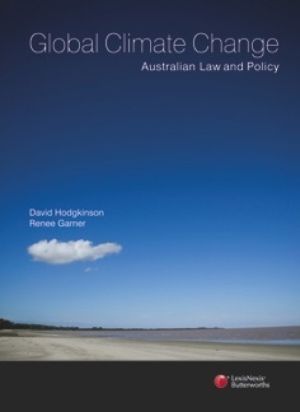 ISBN13: 9780409325355
Published: August 2008
Publisher: LexisNexis Australia
Country of Publication: Australia
Format: Paperback
Price: Price on Application

A comprehensive guide to climate change law and policy at the local, state and national level in Australia. Global Climate Change: Australian Law and Policy is a comprehensive guide to climate change law and policy at local, state and national levels in Australia. The international framework established to deal with climate change is also examined in the book, together with frameworks in other non-Australian jurisdictions.
In writing the book the authors have drawn on legal sources including recent studies undertaken by government and non-government organisations, commissioned reports and journal articles, as well as academic studies. In addition, the authors have explored the physical science basis of climate change, the impact of climate change on human and biological environments, with a focus on Australia and the Pacific, and climate change mitigation and adaptation issues.
Subjects covered in the book include: carbon sequestration; climate change litigation; business, risk and climate change; emissions trading; carbon markets; and possible post-Kyoto climate change regimes.
The book is aimed not only at legal practitioners but also those involved in business, government and policy formulation. Corporations will find the book particularly useful.
Important Features:-
Examines both the legal and policy aspects of climate change in Australia
Multi-disciplinary and multi-jurisdictional approach provides an integrated and nuanced understanding of climate change law and policy at all levels
The avoidance of legal jargon makes it accessible to business, corporations and governments
Detailed, up-to-date and complete coverage which is authoritative and timely