Statutory Interpretation in Australia 7th ed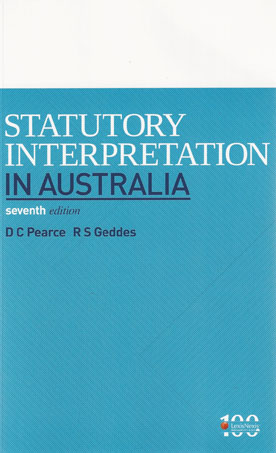 ISBN13: 9780409327458
Published: July 2011
Publisher: LexisNexis Australia
Country of Publication: Australia
Format: Paperback
Price: Out of print

The rules of statutory interpretation are at the crux of many legal disputes. They are central to the work of legal forums, government tribunals and government agencies. Practitioners and students of all legal disciplines must master these rules and know how to apply them to support their legal claims.
This book is the essential guide for this fundamental area of law. It treats the approaches, assumptions and techniques of statutory interpretation with precision and clarity. It provides full exposition of the use of extrinsic materials.
Authority is ensured by multiple references to the statements of courts and tribunals, allowing the practitioner and student to select those that best suit their purposes. This book considers a vast number of cases, providing nuance to every principle.