Discretionary and Testamentary Trusts: Precedents and Commentary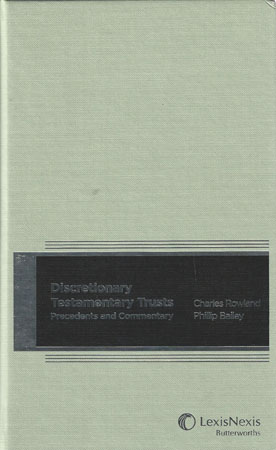 ISBN13: 9780409331288
Published: December 2012
Publisher: LexisNexis Australia
Country of Publication: Australia
Format: Hardback
Price: Out of print

Discretionary Testamentary Trusts: Precedents and Commentary provides practitioners with adaptable tools to draft these complex trusts safely and easily for differing client needs.
Discretionary Testamentary Trusts (DTT's) are currently in high demand, as they offer significant tax advantages and provide valuable asset protection. The precedents contained in this text are flexible and adaptable to a wide range of client circumstances.
To achieve flexibility the central DTT precedent, the 'Boilerplate' is modular. It consists of defined elements which the practitioner can select and assemble. There are variations for particular circumstances, ensuring it is not difficult to draft a seamless DTT will. The book also contains a precedent for a trust for a severely disabled person.
Discretionary Testamentary Trusts: Precedents and Commentary also assists the practitioner to explain the will to the client by offering in lay person's language clause-by-clause explanations of the main Boilerplate precedent.
Rowland and Bailey provide useful examples to show how the precedents could be used in practical situations. These examples include:-
gifts to members of a list, with some on DTT and some not, and with some to be represented on predecease and some not;
unequal shares to children, one of whom is disabled, the disabled child to take on trust, the other children to take on DTT; and
provision for a blended family using Divisions. The blended family precedent is designed to cope with a testator who may or may not have a former spouse or partner as well as a present partner, and children from a former relationship as well as children of a present relationship, using DTTs for some of the beneficiaries but not all.