Administrative Appeals Tribunal 3rd ed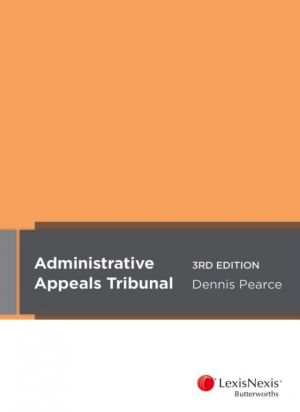 ISBN13: 9780409334401
Published: June 2013
Publisher: LexisNexis Australia
Country of Publication: Australia
Format: Paperback
Price: Out of print

The use of tribunals to review the merits of government decisions is now an established part of Australia?s system of government. The first, and still most significant, of these tribunals is the Commonwealth Administrative Appeals Tribunal (AAT). The practice and procedure developed by the AAT for reviewing administrative decisions on their merits plays a significant role in Commonwealth government decision-making. It has provided the precedent for similar bodies that now exist in all Australian jurisdictions.
Written by Australia's leading authority on the work of the AAT, this book provides a detailed exposition of the jurisprudence of the AAT. The book constitutes a clear and comprehensive treatment of the organisation, its jurisdiction and its procedures and provides essential guidance to anyone who is applying to, or appearing before, the Tribunal.
Because of the primacy of the AAT among Australian tribunals, the book will also provide guidance to persons using the equivalent bodies in other jurisdictions. The relevant sections of the Administrative Appeals Tribunal Act 1975 (Cth) are included in the book for ease of reference.
This third edition of the book includes commentary on the legislative changes made since the last edition and notes and comments on the numerous decisions of the AAT and the Federal Court given since then.
This is an essential work for practitioners, tribunal members, government decision-makers and others requiring a detailed yet accessible, treatment of the practice and procedure of the AAT. As well as for lawyers, the book is a valuable resource for government departments and associated bodies and welfare organisations. Since an understanding of the AAT and like tribunals is a significant aspect of the study of administrative law and government decision-making, the book provides a vital research tool for students of those areas.