Criminal Law 5th ed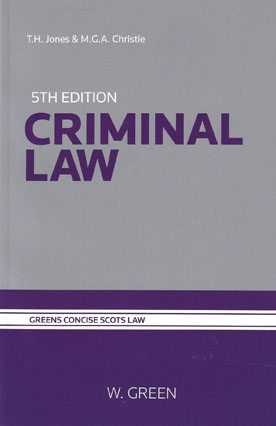 ISBN13: 9780414018341
Published: August 2012
Publisher: W. Green
Country of Publication: Scotland
Format: Paperback
Price: Out of print

Now in its 5th edition, this vastly popular text on Scots criminal law has been fully updated and revised to reflect the onward progress of the law since the last edition in 2008. Recent legislation passed by the Scottish Parliament has meant that the subject area has seen considerable movement in this time period.
Key additions to the text include coverage of new Scottish sexual offences and analysis of recent breach of the peace cases. The currency of the text is also reflected in its coverage of the headline grabbing Offensive Behaviour at Football and Threatening Communications (Scotland) Act 2012.
The authors provide not only an essential in-depth explanation of the law but also a highly functional user-friendly tool. Legislative references are fully documented to disclose relevant amendments, valuable websites are referred to and appendices provide guides to bibliographic sources.
The text is perfectly designed to be practical and amenable for the busy practitioner or pressured student of Scots criminal law.
Criminal Law 5th Edition offers up-to-date coverage of the criminal law of Scotland in a compact and accessible form, relied upon for many years by those with a professional or academic interest in Scots criminal law. The full scope of the text makes Criminal Law 5th Edition the perfect concise modern guide on the subject.