MacGillivray on Insurance Law: Relating to all Risks Other than Marine 12th ed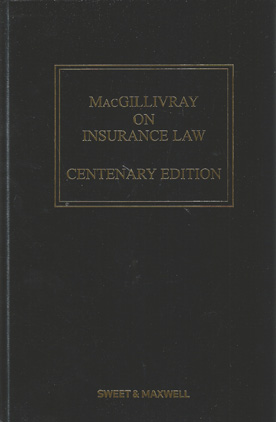 ISBN13: 9780414024458
Published: September 2012
Publisher: Sweet & Maxwell Ltd
Country of Publication: UK
Format: Hardback
Price: Out of print

Wildy's Book of the Month: October 2012
2012 marks the centenary of the publication of MacGillivray on Insurance Law - a classic work which deals with insurance risks and takes into account the key legislative developments and judicial decisions in this area.
The 12th Edition will bring this well-regarded work up to date and marks the 100th anniversary since the first edition. It provides you with analysis of essential cases from the insurance sector and includes a wide range of authorities, comparing English law with its Scottish, US and Common wealth counterparts providing you with a clear understanding of the key themes.
It also deals with the new law under the Consumer Insurance (Disclosure and Representations) Act 2012 and considers the latest restructuring of the FSA and Bank of England, looking at the shift of responsibilities.
The cornerstone of insurance law, and part of Sweet & Maxwell's Insurance Practitioner's Library, this title is regularly cited in court and relied upon as a trusted authority. You wouldn't want to practice without it.
Provides a valuable reference that aids a thorough understanding of the principles of insurance law and its applications in practice
Takes the reader through the definition of insurable interests, the construction of an insurance policy, the formation of an insurance contract, and the relevant premiums and policy risks under particular contracts
Looks at good faith and disclosure, misrepresentation, fraudulent activity, subrogation and where more than two insurers rights are involve
Considers the separate classes of insurance, including: life, personal accident, property, motor and aviation
Covers insurance against pecuniary loss, contractors' risks policies and the basic principles of reinsurance law
Analyses the different parties which can be involved in an insurance transaction, and how the process works, in particular with regard to Lloyds
Discusses the roles of agents in insurance
Divided into 3 sections for ease of reference