Wilkinson's Road Traffic Offences 26th with 2nd Supplement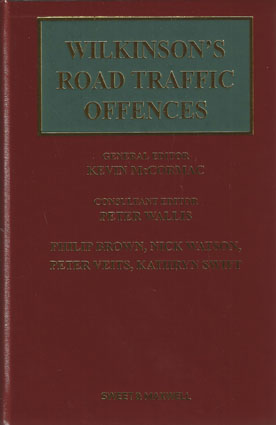 ISBN13: 9780414035126
Published: December 2014
Publisher: Sweet & Maxwell Ltd
Country of Publication: UK
Format: Hardback, 2 Volumes & Supplement
Price: Out of print

Wilkinson's Road Traffic Offences is widely regarded as the definitive authority on road traffic offences in England and Wales.
Providing everything needed for both prosecuting and defending a case, it covers every facet of road traffic law the practitioner is likely to encounter. With Wilkinson everything required is to hand, from general definitions to legislation and case law.
Its straightforward approach allows the user to access the information needed quickly and easily, with flow charts, checklists and tabular summaries to clarify complex areas.
The new 26th edition has been fully updated to include the impact of the Legal Aid, Sentencing and Punishment of Offenders Act 2012, the latest legislative developments implementing EU Regulations, the effect of sentencing guidelines on cases of causing death by dangerous and careless driving, as well as extensive recent case law on drink/driving and other key areas of road traffic law.
The 2nd Supplement was published in December 2014
The 1st Supplement was published in May 2014
The Main Work was published in September 2013
Provides everything needed for both prosecuting and defending a case
Full text commentary and legislation on all aspects of road traffic law
Covers both substantive law and procedure
Practitioner-focused: offers solutions to problems
Goes through offences, chapter-by-chapter
Follows through to sentencing and appeals, covering every aspect in chronological order