A Practitioner's Guide to the European Convention on Human Rights 4th ed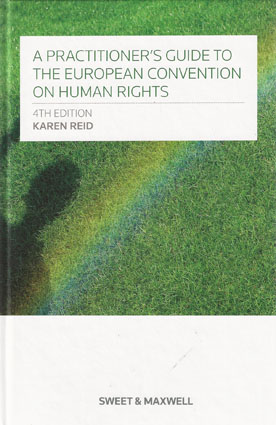 ISBN13: 9780414042421
Published: January 2012
Publisher: Sweet & Maxwell Ltd
Country of Publication: UK
Format: Hardback
Price: Out of print

This is a practical and detailed reference guide to the procedure for taking a case to the European Court of Human Rights ("ECtHR"). As well as explaining the principles of the European Convention on Human Rights (and its role in UK law), the book provides step-by-step guidance on the practices and procedures involved in bringing a case before the ECtHR, ensuring that practitioners have a comprehensive guide to practising in the Court.
The new edition will provide an update on the relevant procedures, case law and problem areas, as well as including a clear explanation of the organisation and structure of the ECtHR, the latest trends in case sources and topics, and coverage of key provisions and general principles organised by subject area.
The place of the European Convention within UK law continues to grow in importance and as we are offering a practical guide to the Court and its procedure, it is essential that we maintain a regular cycle for the book to ensure that our readers are up to date. The new edition will update the content with current practice and procedure and general principles, as well as including new case law and areas of importance (such as extraterritoriality/jurisdiction, electoral rights, torture issues which have arisen out of cases relating to the war on terrorism, and the right to life).