The White Book Service 2010: Civil Procedure Volumes 1 & 2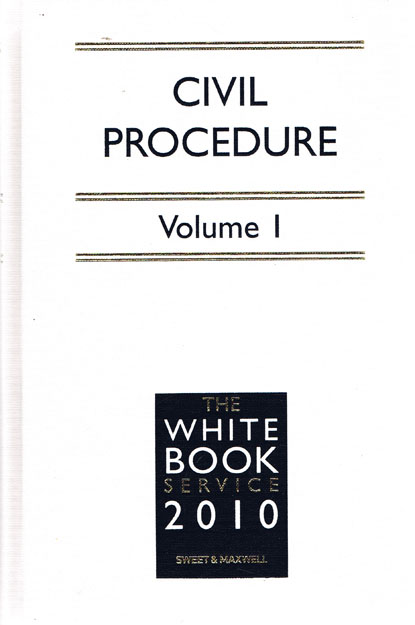 ISBN13: 9780414042483
Published: March 2010
Publisher: Sweet & Maxwell Ltd
Country of Publication: UK
Format: Hardback, 2 Volumes & Forms CD-ROM
Special Offer: Out of print
(Usual price £175.00)
Out of Print
The White Book Service 2010 covers every aspect of civil procedure from Rules to guidance, commentary and forms.
The White Book 2010 will publish on the 31st of March 2010; this is about 2 weeks earlier than usual.
This is so that that the audience have the information they need on the Civil Procedure (Amendment No.2) Rules 2009 and TSO Update 51 that come into force on 6 April 2010.
BRAND NEW CONTENT FOR 2010
Coverage of the Civil Procedure (Amendment No 2) Rules 2009 and TSO Update 51
The new Supreme Court Rules, Practice Directions and forms, with expert commentary
New commentary on Part 63 – Patents and Other Intellectual Property Claims, which was substituted in 2009 as part of Civil Procedure (Amendment) Rules (SI 2009/2092)
Five new Procedural Guides covering the terrorism control orders procedures under Part 76 of the CPR
New commentary on Part 25 and Section 15 on Interim Remedies
Technology and Construction Court Claims - brand new commentary and case law on TCC matters, including the pre-action protocol process, procurement claims and costs – particularly on limiting the parties' costs
A new edition of the Chancery Guide
New to Volume 1
Part 6 Service of Documents:
Updated guidance on service of the claim form by an alternative method in light of the 'Twitter' injunction
New commentary on 'usual or last known residence' under Rule 6.9 in light of Relfo Ltd v Varsani
Updates to Part 6 on methods of service on a company in light of the coming into force of provisions of the Companies Act 2006
Part 31 Disclosure and Inspection of Documents: Updated guidance on challenging a claim to privilege in the light of West London Pipeline and Storage Ltd v Total UK Ltd
Costs : New commentary on updated case law, the Solicitors (Non-Contentious Business) Remuneration Order 2009, and further commentary on amendments made by Civil Procedure (Amendment) Rules (SI 2009/2092)
Part 74 Enforcement of Judgments in Different Jurisdictions : The ratification of the new Lugano Convention, into force on 1st January 2010
New to volume 2

Additional commentary on Part 59 on Mercantile Courts
Companies Act Proceedings: Revised commentary in light of the new practice direction on Companies Act Proceedings coming into force on 1 October 2009 plus a new form to be completed for urgent applications
Housing : Coverage of the Housing (Replacement of Terminated Tenancies) (Successor Landlords) (England) Order 2009 SI No. 1262, the Housing (Replacement of Terminated Tenancies) (Successor Landlords) (Wales) Order 2009 SI No. 1260 and the Housing and Regeneration Act 2008 Sch.11 and the Pre-action Protocols for Possession Claims based on Residential Mortgage Arrears and based on Rent Arrears
Business Tenancies : further commentary on the Landlord & Tenant Act 1927 and provisions as to covenants to repair, particularly on the limits of the amount of damages that a landlord may recover for breach of repairing covenants
Discrimination law : Coverage includes the Armed Forces Act 2006 (Transitional Provisions etc) Order 2009, SI 2009/1059
Limitation: Updates to case law including A v Hoare and Law Society v Wemyss
ADR : Revised commentary on the recoverability of mediation costs
SPECIAL SUPPLEMENT TO THE 2010 EDITION
The special supplement takes into account new provisions come into force generally on April 30, 2010, to ensure that you are fully briefed on the amendments to the Civil Procedure Rules, introduced by the Civil Procedure (Amendment) Rules 2010 (SI 20101621) and ISO CPR Update 52.
The special supplement will publish on 31" of March and will be included with the delivery of the White Book 2010. It it provided as a free, additional part of your White Book order and cannot be bought separately. It is also additional to the First Cumulative White Book Supplement which you will receive as usual in June. The June supplement will also include the contents of the Special Supplement.
SPECIAL SUPPLEMENT CONTENT

A new Practice Direction to Part 8 on the Alternative Procedure for Claims
A new Pre-Action Protocol for Low Value Personal Injury Claims in Road Traffic Accidents
New sections added to Part 36 (Offers to Settle) and Part 45 (Fixed Costs)
Amendments made to Part 14 (Admissions), Part 21 (Children and Protected Parties), Part 27 (Small Claims) and the Pre-Action Protocol for Personal Injury Claims Amendments have also been made In respect of social housing, which include changes to:
Part 55 (Possession Claims)
Part 65 (Anti-Social Behaviour and Harassment)
Pre-Action Protocols for Possession Claims Based on Rent Arrears and Mortgage or Home Purchase Plan Arrears in respect of Residential Property
Separately, amendments are made to the Court Funds. Rules introduced by the Court Funds (Amendment) Rules 2010 (SI 2010/172).