Sinclair on Warranties and Indemnities on Share and Asset Sales 8th ed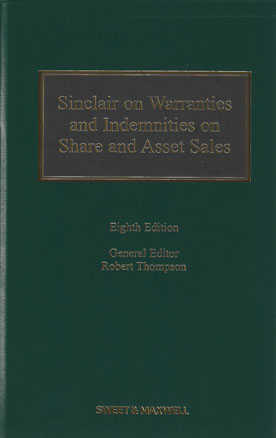 ISBN13: 9780414043169
Published: March 2011
Publisher: Sweet & Maxwell Ltd
Country of Publication: UK
Format: Hardback & CD-ROM
Price: Out of print

Sinclair on Warranties and Indemnities on Share and Asset Sales covers the history and function of warranties and indemnities, highlighting the main principles, and provides expert commentary on tax, property and general warranties and indemnities for both asset and share sales to help practitioner's reach a successful outcome for their client.
The new edition covers changes to warranties from both a purchaser and vendor perspective, contains clearly written commentary and guidance which explains the drafting, clauses and impact of warranties and indemnities. The authors go through the drafting process starting with the rights and liabilities to completion accounts and valuation, offering a broad understanding of key transactions.
The accompanying CD contains ten precedents for easy use, reference and drafting. All precedents are written in bold so the wording stands out from accompanying commentaries and explanations.
New for the 8th Edition:
Substantially revised to reflect changes in approach, convention and law since the previous edition;
Includes the recent changes to Taxation Warranties and the Tax Covenant following the implementation of the Income Tax Act 2007, the Corporation Tax Acts of 2009 and 2010;
Reflects the full implementation of the Companies Act 2006;
Includes warranties and due diligence enquiries to be included with effect from the implementation of the Bribery Act 2010 in April 2011;
Includes substantial amendments to the warranties that focus on pensions, data protection, anti-corruption, social media and employment;
The chapter on asset sales has been expanded to incorporate the latest trends on indemnities and warranties, specifically the latest position on the Transfer of Undertakings (Protection of Employment) Regulations (TUPE) with detailed commentary on recent case law;
Provides a discussion on warranty and indemnity insurance;