Exclusion Clauses and Unfair Contract Terms 10th ed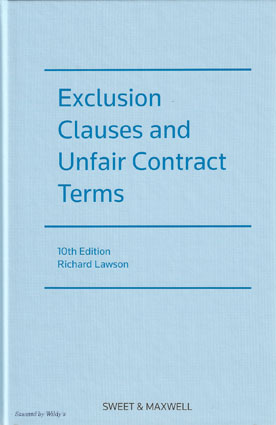 ISBN13: 9780414045767
Published: March 2011
Publisher: Sweet & Maxwell Ltd
Country of Publication: UK
Format: Hardback
Price: Out of print

Exclusion Clauses and Unfair Contract Terms contains straightforward and practical guidance for practitioners in a crucial area of contract law.
The author considers how the courts have interpreted exclusion clauses, and how Parliament have enacted a separate set of controls, showing practitioners how to draft exclusion clauses that are lawful, valid and effective. Both commercial and consumer style contracts are covered, and the void and ineffective exclusion clauses are examined. Each chapter concludes with a list of bullet points to summarise key points made.
The text has been enhanced and brought fully up to date since publication of the last edition and includes an explanation of the new criminal offences in relation to contract terms, created by the Consumer Protection Against Unfair Trading Regulations 2008, and examines the impact of both the reasonable test and fairness test in recent case law.
Discussion on the fairness of bank charges with reference to relevant case law, including the action brought by the Office of Fair Trading, is included as well as consideration of the implication of the Unfair Terms in Consumer Contract Regulations 1999 and discusses developments of case law.