Practitioner's Guide to Conflicts of Interest in the Financial Services Industry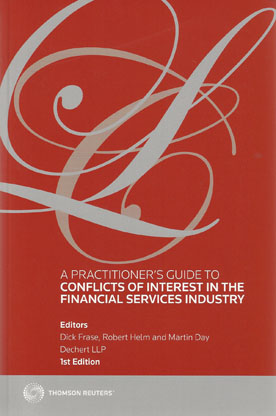 ISBN13: 9780414049413
Published: August 2012
Publisher: Sweet & Maxwell Ltd
Country of Publication: UK
Format: Paperback
Price: £229.00

A Practitioner's Guide to Conflicts of Interest in the Financial Services Industry provides you with a practical examination of the complex law and regulations that exist in the UK, USA and various other important jurisdictions concerning the concept of conflicts of interest and how the principles have been applied to the financial services industry.
This unique title looks firstly at the law in the UK, giving you detailed guidance on how conflicts and potential conflicts should be managed in the context of UK regulation. It then goes on to discuss the latest EU developments and the US approach, particularly with regard to the extent that non-US firms are subject to US regulatory requirements and the implications of the Dodd-Frank Act. The book also covers other jurisdictions including Ireland and Hong Kong, and considers the civil law approach with reference to France, Germany and Luxembourg.
The last section of the book looks at potential future trends and developments, and includes a case study illustrating how conflicts of interest can be managed and how legal liability contracted out of by the use of appropriately worded engagement letters and the efficacy of information barriers.
This title enables you to be aware of potential conflicts of interest and how to manage these situations to ensure that you can minimise the risk of conflicts and resolve any situations that may arise.
Examines the complex laws and regulations concerning the concept of conflicts of interest as it has been applied to the financial services industry in the UK, US and other important jurisdictions
Includes detailed coverage of the UK regulatory landscape
Provides expert guidance on how conflicts should be managed in the context of UK regulation
Advises on systems and controls to put in place to avoid conflicts arising
Covers the latest EU-level developments and their impact on UK financial institutions
Gives guidance on the impact of US law and regulation, including the Dodd-Frank Act, on institutions outside the US
Covers the situation in certain other jurisdictions including Ireland and Hong Kong, and considers the civil law approach with reference to France, Germany and Luxembourg
Provides a detailed case study illustrating how conflicts of interest can be managed and legal liability contracted out of by the use of appropriately worded engagement letters and the efficacy of information barriers
Looks at the potential future trends and developments