Aldridge Powers of Attorney 11th ed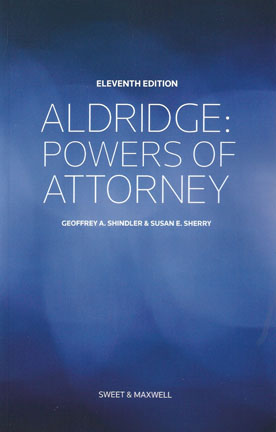 ISBN13: 9780414050891
Published: October 2016
Publisher: Sweet & Maxwell Ltd
Country of Publication: UK
Format: Paperback
Special Offer: £84.00
(Usual price £105.00)
Powers of Attorney is the definitive work providing clear guidance on the creation, interpretation and use of powers of attorney.
Written in a succinct and straightforward manner, it provides everything needed to operate effectively in this area of the law. Beginning with an explanation of the scope of powers of attorney, it goes on to examine the duties of the parties involved, before looking at specific situations in which powers of attorney can be used.
The new 11th edition has been updated throughout to reflect recent developments in legislation and case law.
Clarifies the role, powers and duties of donor, attorney and third parties
Shows how powers of attorney are used in different situations, including land and companies
Advises on drafting issues
Includes forms and precedents
Explains how powers of attorney interact with trusts law
Covers lasting powers of attorney and examines the key case law since their introduction in 2007
Reproduces relevant statutes, statutory instruments and rules, so they can be consulted easily