Arbitration in Africa: A Review of Key Jurisdictions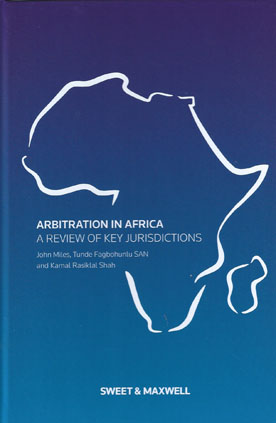 ISBN13: 9780414052529
Published: February 2016
Publisher: Sweet & Maxwell Ltd
Country of Publication: UK
Format: Hardback
Price: £189.00

Over the past decade Africa has emerged as a leading centre of economic growth, with the majority of industries operating within Africa having experienced rapid expansion as a result of increased investment and interest from around the globe.
Naturally this has led to an increase in disputes, renewing the interest of arbitrators and practitioners from both within the continent and around the world.
Written by a team of highly experienced practitioners,
Arbitration in Africa: A Review of Key Jurisdictions
is a valuable text for any arbitrator operating within Africa, providing a thorough and comprehensive account of arbitration in Africa.
Presents essential guidance for practitioners arbitrating in the African region
Written by a team of practitioners with a wealth of experience arbitrating in Africa
Offers information and practical advice on specific regions, including: the East African Community; anglophone west African countries; southern Africa; and Arabic speaking countries
Provides detailed advice on jurisdiction, arbitration awards and their enforcement
Contains essential legislation
Covers bi-lateral investment treaties in Africa
Gives detailed coverage of the rules surrounding procedure and evidence
Examines restrictions in local legislation
Addresses the controversies, difficulties and potential pitfalls of arbitrating in Africa
Features rare and valuable case examples that provide useful insights into the nature of arbitration in Africa
Includes a comparison table of regional arbitration centre rules
Contains a map of Africa, colour-coded to represent local arbitration centres/ jurisdictions for quick and easy reference