Facts & Figures 2016/17: Tables for the Calculation of Damages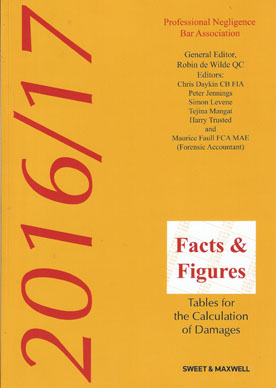 ISBN13: 9780414059801
Published: August 2016
Publisher: Sweet & Maxwell Ltd
Country of Publication: UK
Format: Paperback, A4
Price: Out of print

Special damages constitute an important part of most personal injury claims and preparing a schedule of damages is a complex process.
Facts & Figures: Tables for the Calculation of Damages 2016/17 makes the entire calculation process quicker, easier and more accurate.
Facts & Figures 2016/17 is an essential desk-top companion for all personal injury lawyers. It is widely used across the profession and is referred to and cited in court by the judiciary.
Drawn from a broad range of authoritative and reliable primary sources, this comprehensive reference guide has been compiled by specialist personal injury practitioners. Updated annually, it contains in one convenient volume all the information you need for assessing special damages including:-
Enables effortless calculation special damages and claims for loss of earnings in personal injury cases
Provides access to the latest, up-to-date material and includes the 6th edition of the Ogden tables
Ensures accuracy in the calculation of special damages and claims for loss of earnings
Provides up-to-date financial and statistical information
Helps with the production of schedules and counter-schedules
Includes: Life, multiplier and discount tables, Earnings tables, Various interest tables, Price tables, Investment tables, Tax and insurance tables, Benefits, allowances and charges, Criminal Injuries Compensation Authority Multipliers Table, Decimal Years Table
Provides clearer, easier to use Carer Rates tables, Nanny cost-to-client rates to be recalculated in accordance with formula used for carer rates and a simplification of Tables C-1 Earnings Losses