Archbold: Criminal Pleading, Evidence and Practice 2018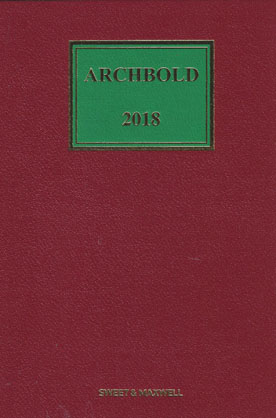 ISBN13: 9780414062238
Published: October 2017
Publisher: Sweet & Maxwell Ltd
Country of Publication: UK
Format: Hardback & Supplements
Price: Out of print

With over 190 years' authority informing every page, Archbold is the reference work to cite in court, adding weight and credibility to your arguments.
It concentrates on what the law is, rather than what it ought to be, covering both substantive law and the practice and procedure of the Crown Court. Separate chapters cover each indictable offence in depth, from forgery to murder, enhancing your understanding of the crimes relevant to your current cases.
Supplemented three times a year Archbold keeps you abreast of the latest developments in criminal law, from cases to new Statutory Instruments. Ten copies a year of the Archbold Review bulletin provides insight into the latest discussions in criminal law and practice from your colleagues and peers.
You know as well as we do how quickly the law changes, and so you can stay completely up to date with the latest developments via the Archbold eUpdate, a weekly email alert containing all the relevant updates in criminal law that impact Archbold, cross-referenced by paragraph to the mainwork. What's more, the content is archived online so you can access the latest information at anytime.
Supplement 3 will be published in July 2018
Supplement 2 will be published in March 2018
The main Work and Supplement 1 was published in October 2017