Criminal Procedure and Sentencing 7th ed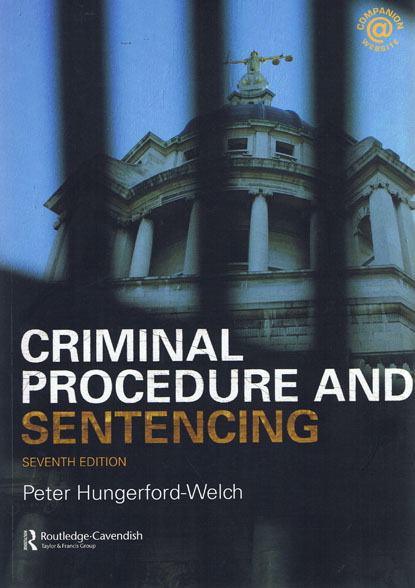 ISBN13: 9780415442923
Published: August 2008
Publisher: Routledge-Cavendish
Country of Publication: UK
Format: Paperback
Price: Out of print

Criminal Procedure and Sentencing provides a comprehensive, analytical and up-to-date guide to each step of the criminal process: from the arrest of the suspect through to trial, sentencing, and appeals. Full account is taken of both statutory and case law developments and the book is supported by a companion website which provides regular updates to the caselaw and statutory developments in this fast-moving area. Key aspects of criminal procedure and sentencing are analyzed in the light of sources such as Government consultation papers and academic commentary.
This seventh edition includes:-
enhanced pedagogical features to make the text more accessible for undergraduate students, including tables and flowcharts;
key terms and highlighted summaries of important cases;
a new bibliography and advice on further reading at the end of each chapter to point students towards sources for more detailed study;
and, areas of controversy or debate.
This book is supported by a companion website offering twice-annual updates to the cases and legislation discussed within the text, annotated web links pointing students towards useful sources and self-test questions to help them consolidate their knowledge of the subject.
This book provides an excellent introduction to criminal procedure and sentencing for anyone studying the criminal process as part of an LLB or LLM degree, for students on the Bar Vocational Course or Legal Practice Course, and anyone who is involved in the operation of the criminal justice system or who is interested in how the system works.
Previously known as Criminal Litigation and Sentencing from the 1st to the 6th edition