The Law and Consumer Credit Information in the European Community: The Regulation of Credit Information Systems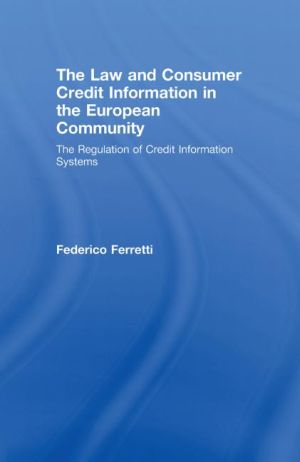 ISBN13: 9780415542388
Published: May 2012
Publisher: Routledge-Cavendish
Country of Publication: UK
Format: Paperback
Price: £32.99

Despatched in 6 to 8 days.
Consumer credit information systems are the tools used by the majority of lenders to manage credit risk, with lenders accessing credit reference databases managed by third party providers to evaluate a consumer's credit application. So far, the subject of consumer credit reporting has been left to the predominant attention of the economic and business management scholarship and little or no consideration has been paid by lawyers. This book aims to rectify this by examining the legal framework and compliance in the European Community (EC) of such consumer information sharing arrangements which have become increasingly integrated in the credit granting practices of the Member States.
The book looks at the laws which surround and affect consumer credit reporting, including bank secrecy obligations. Consumer credit reporting and its relationship to human rights is also explored, as every individual is in the EC is entitled to informational privacy. The book asks questions such as to what extent should the privacy of consumers be balanced against the aims and functions of consumer credit reporting, and how do the financial information sharing arrangements comply with the positive law, particularly the European data protection legislation?