Vindicating Socio-Economic Rights: International Standards and Comparative Experiences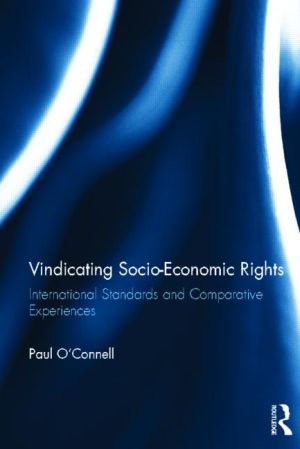 ISBN13: 9780415609883
Published: February 2012
Publisher: Routledge
Country of Publication: UK
Format: Hardback
Price: £90.00

Despatched in 2 to 4 days.
Notwithstanding the widespread and persistent affirmation of the indivisibility and equal worth of all human rights, socio-economic rights continue to be treated as the Cinderella of the human rights corpus. At a domestic level this has frequently resulted in little appetite for the explicit recognition and judicial enforcement of such rights in constitutional democracies. One of the reasons often given for this is the apprehension that the judicial enforcement of socio-economic rights is fundamentally at variance with the doctrine of the separation of powers.
This book draws on the comparative experiences in a diverse number of jurisdictions, including South Africa, India, Canada, and Ireland, which have addressed the issue of socio-economic rights. In doing so it seeks to show that courts can play a substantial role in the vindication of socio-economic rights, while still respecting the relative institutional prerogatives of the other branches of government. To this end the book sets out a "model" approach which considers the standard of review which courts should, generally, adopt in socio-economic right cases, the optimum remedial approach and also sign-posts some potential problems or shortcomings of this model.