Media and Entertainment Law 2nd ed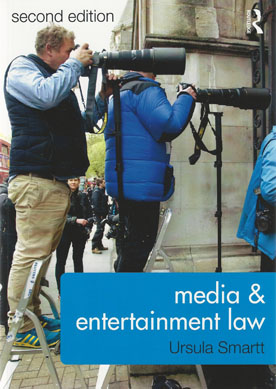 ISBN13: 9780415662697
Published: March 2014
Publisher: Routledge
Country of Publication: UK
Format: Paperback
Price: Out of print

Media and Entertainment Law presents a contemporary analysis of the law relating to the media and entertainment industry both in terms of its practical application and its theoretical framework. It provides a clear, current and comprehensive account of this exciting subject.
Fully updated and revised, this second edition is one of the first texts to contain a full analysis of the Leveson Inquiry and the implications for our press and media that are arising from it.
The new edition contains; a new chapter analysing the Defamation Bill 2012-13; the Digital Economy Act 2010 which aimed to toughen up against copyright infringement online and has been subject to parliamentary review since coming into power; and the liability of internet service providers, including recent cases such as Tamiz vs Google 2012, which goes some way to define the extent to which an ISP may or may not be found liable for their bloggers content.
With integrated coverage of Scots and Northern Irish law, Media and Entertainment Law also highlights comparisons with similar overseas jurisdictions, such as with the liability of ISPs where there are differences in both US and European law, in order to help students demonstrate an awareness of media laws, which may then influence UK legislation.
Looking at key aspects such as TV and radio broadcasting, the print press, the music industry, online news and entertainment and social networking sites, this text provides students with detailed coverage of the key principles, cases and legislation as well as a critical analysis of regulatory bodies such as OFCOM and the Press Complaints Commission, therefore providing the most comprehensive and up to date coverage of the law relating to the media and entertainment industry.