Science and Technology in International Economic Law: Balancing Competing Interests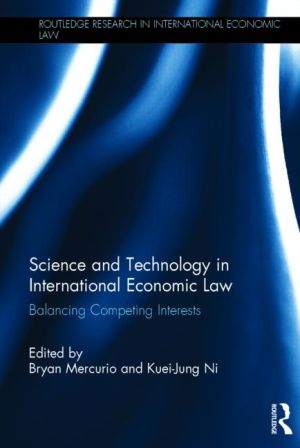 ISBN13: 9780415829960
Published: December 2013
Publisher: Routledge
Country of Publication: UK
Format: Hardback
Price: £95.00

Despatched in 4 to 6 days.
This book brings together renowned contributors to explore the status and interaction of, and between science, technology and international economic law. The book reviews the place of science and technology in the development of international economic law with a view to seeking a proper balance between promoting trade and investment liberalization and ensuring decisions are based on a sound scientific process and without hampering technological development.
The book features chapters from a range of experts including Tomer Broude, Lukasz Gruszczynski, Jurgen Kurtz, Andrew Mitchell. Part 1 focuses on the science of health risks associated with trade in goods, while Part 2 considers the role of technology in the international trade of services, Part 3 covers issues of science and technology that cut across both the trade and investment regimes and Part 4 discusses scientific and technological aspects of trade-related intellectual property issues. In bringing together the issues of science and technology, international trade law, investment law and intellectual property the book addresses the question of whether and how the trade and investment regimes utilise science and technology, and whether it does so fairly and in the interest of global justice.