Land Law: A Problem-Based Approach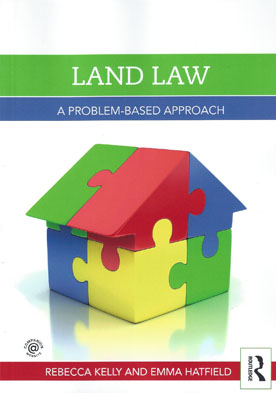 ISBN13: 9780415844901
Published: July 2017
Publisher: Routledge
Country of Publication: UK
Format: Paperback
Price: £33.99

Land Law: A Proble-Based Approach creates a fresh approach to learning land law through the use of real-life scenarios which bring what is often perceived to be a dry and difficult subject to life.
This helps both to engage the student and make the subject more accessible as well as placing land law in it's real world context. With Land Law: A Problem-Based Approach, context is placed at the heart of learning and guides students through application rather than via an abstract set of rules and can therefore gain a deeper understanding of how land law works, not just what it is.
Unlike other textbooks, Land Law: A Problem-Based Approach integrates a thorough exposition of the law with practice, facilitating a more active learning approach and helping students to engage directly with the key cases and statutes to develop key skills of analysis, problem-solving and application.
Written in a clear and concise style but without sacrificing detail or analysis, the book guides the reader towards a deeper understanding of the land law curriculum.
Key features include:-
An introductory chapter outlining the problem-based learning approach and how to use the book.
Content overviews at the start of each chapter which provide a useful outline of the chapter's content and the key principles
PBL scenarios at the start of each chapter which provide the real-life context to each topic and help to familiarise readers with the legal language and style they will encounter. Together with the relevant supporting documents, these scenarios are referenced and integrated throughout the chapter
'let's put this into context' boxes which require students to apply the law that they have learnt back to the problem scenario and offer opportunites to reflect and consolidate on the content covered
Essential Cases and Esential Statutes boxes reinforce the essential role of cases and legislation in the development and application of land law and help students identify key cases and legislation for revision purposes
Understanding Terminology boxes and an online glossary help students to get to grips with the technical terms and vocabulary unique to land law
Tables and diagrams explain difficult concepts and rules, ideal for visual learners
Tips and notes highlight key issues and make links between different aspects of the law without interrupting the flow of the text.
Specimen exam-style questions are ideal for revision and help to provide opportunities to apply learning and practice exam technique