Riley on Business Interruption Insurance 9th ed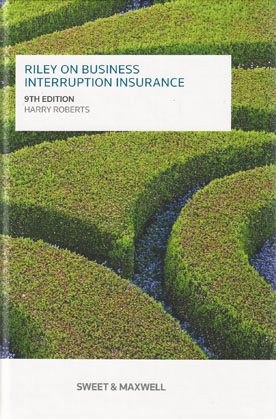 ISBN13: 9780421925809
Published: January 2012
Publisher: Sweet & Maxwell Ltd
Country of Publication: UK
Format: Hardback
Price: Out of print

This book provides an international guide to business interruption insurance, containing detailed comparison of UK and US practice and procedure. It focuses on the wordings of policies in both the UK and US, but also offers coverage of activities and philosophies in Asia, Africa, the Americas, and Australasia.
This new edition covers all the changes that have occurred since the publication of the 8th edition in 1999, including the increased emphasis on policy wordings, increased importance of risk analysis, and changes to the risk landscape.
It looks at several types of cover, and provides detailed guidance on charges in company accounts, perils and contingencies including fire, labour disturbances, strikes, and riots. It looks at the principles, conditions, and available scope of modern consequential loss policies, including the pitfalls, and includes key recent case law.
Authoritative - widely regarded as the foremost text on the subject.
Comprehensive - examines business interruption and consequential loss insurance and claims
Practical approach - readable and reliable
International approach - focuses on the UK and US, but also deals with Asia, Africa, the Americas, and Australasia