The Law of Evidence in Canada 2nd edition with 2004 Supplement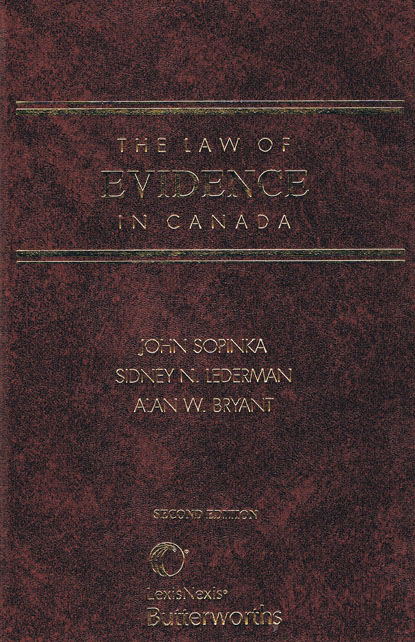 ISBN13: 9780433443742
ISBN: 043344374X
Published: June 1999
Publisher: LexisNexis Canada
Country of Publication: Canada
Format: Hardback & Supplement
Price: Out of print

The Law of Evidence in Canada, 2nd ed provides all the information civil and criminal trial lawyers and appellate counsel need to anticipate and effectively respond to evidentiary issues which arise at trial and on appeals.
Published in 1999, the second edition was thoroughly revised and updated to reflect the "principled approach" to evidentiary rules enunciated by the Supreme Court of Canada since the first edition was published.
The Supplement was published in 2004
The law of evidence continues to develop at a rapid rate and the "principled approach" is being extended and applied to virtually every area of the subject such that it has now become the new cornerstone of modern evidence law.
With the "principled approach", context becomes an essential component in the application of the rule, and courts must consider the underlying principles of the rule in the context of the particular facts of the case. The supplement focuses on those areas of the law of evidence where the impact of the "principled approach" (primarily by SCC and provincial appeallate court decisions) has had the most significant impact. Areas such as hearsay, confessions, similar fact evidence, expert opinions, privilege, public interest immunity, the examination of witnesses and rules dispensing with or facilitating proof.