Legally Correct Fairy Tales: Bedtime Classics Translated into Legalese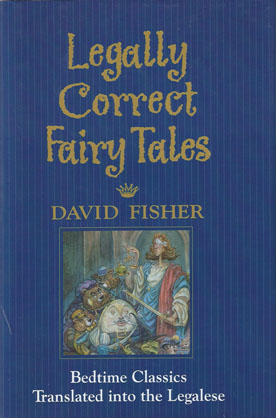 ISBN13: 9780446520751
ISBN: 0446520756
Published: May 1997
Publisher: Time Warner Books
Country of Publication: USA
Format: Hardback
Price: Out of print

Jack and Jill went down the hill - and are suing the pail manufacturer for pain and suffering. The mobster known as the Big Bad Wolf, nemesis of little pigs and grandmas everywhere, faces indictment under the RICO Act.
Snow White, in violation of the kingdom's nondiscrimination laws, is given forty-five days to hire nonmale, non-Caucasian, nonvertically challenged employees. And guess who the Three Bears are taking to the cleaners for trespassing, damage to real property, and mental anguish.
Way beyond the politically correct, this is the perfect book for these litigious times. From the Emperor's New Clothes to the Old Lady Who Lived in a Shoe... from Pinocchio to Humpty Dumpty ... from Hansel and Gretel to Beauty and the Beast ... the most beloved tales of childhood are told once again, not with the rhythms of the nursery, but in the precise language of the law, as depositions and briefs, summonses and summary judgments.
The court finds Legally Correct Fairy Tales hilarious.