Takeovers Law & Strategy 3rd ed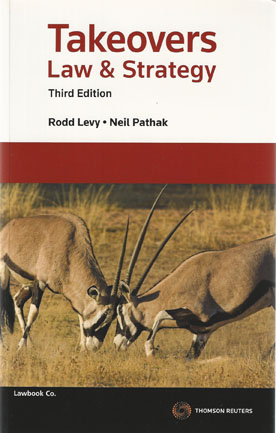 ISBN13: 9780455224428
Published: October 2008
Publisher: Thomson Reuters Australia
Country of Publication: Australia
Format: Paperback
Price: Out of print

First published in 1996, Takeovers Law & Strategy is well-known as a practical and easy-to-understand guide to the laws, procedures and strategies relevant to takeover bids in Australia.
Since the second edition was published in 2002, there has been a significant increase in the number and size of takeover bids, which has led to important developments in the strategies used in takeovers in Australia. Key developments examined in the new edition include:-
new techniques for bidders, such as bear hug conditions, pre-bid acceptance agreements, virtual variations and institutional acceptance facilities;
the emergence of public to private bids conducted by private equity firms; and
the implications of approximately 200 new decisions and 13 new guidance notes issued by the Takeovers Panel since 2002.
Takeovers Law & Strategy
contains a comprehensive analysis of each step involved in a takeover bid and the relevant requirements under the Corporations Act, the Foreign Acquisitions and Takeovers Act, the Listing Rules of the Australian Securities Exchange, the Trade Practices Act and other relevant legislation.
The book is an essential reference for anyone involved in a takeover including lawyers, company executives, investment bankers and stockbrokers. It is also a useful guide for students.