Security of Payment in the Australian Building and Construction Industry 5th ed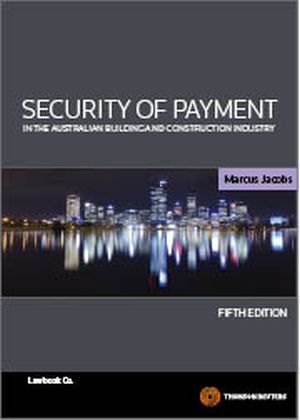 ISBN13: 9780455233543
Published: July 2014
Publisher: Thomson Reuters Australia
Country of Publication: Australia
Format: Paperback
Price: Out of print

Security of Payment in the Australian Building and Construction Industry, 5th Edition, provides expert analysis of the security of payment regimes across Australia and has been thoroughly revised and updated to capture case law and legislative developments since 2011.
Using the New South Wales Act as its cue, this book analyses the law around Australia and its detailed commentary captures the specialised insights of Marcus Jacobs QC.
The 5th Edition covers a range of critical developments, and is enhanced by additional resources provided to assist practitioners.
The impact of the Building and Construction Industry Security of Payment Amendment Bill 2013 (NSW) (operational from 21 April 2014) is considered, including the following key matters:
Introduction of maximum payment periods to promote prompt payment between parties;
Removal of existing restrictions in order to allow any payment claim to potentially be adjudicable under the Act;
Introduction of supporting statements, declaring that all subcontractors have been paid, to accompany payment claims which have been submitted by head contractors; and
New trust account requirements for head contractors.
All legislation from around Australia is current at 1 May 2014 and a range of helpful public materials explaining the context of the changes has been included in the book.
Relevant case law is comprehensively examined, including authorities from across the jurisdictions. Key decisions include:


Bauen Constructions Pty Ltd v Sky General Services Pty Ltd [2012]
Rail Corporation of NSW v Nebax Constructions [2012]
Anderson Street Banksmeadow Pty Ltd v Helcon Contracting Australia Pty Ltd [2013]
Cranbrook School v JA Bradshaw Civil Contracting [2013]
South East Civil & Drainage Contractors Pty Ltd v AMGW Pty Ltd [2013]
Sugar Australia Pty Ltd v Southern Ocean Pty Ltd [2013]
A new Comparative Table of Provisions referencing the relevant security of payment legislation in each Australian jurisdiction is now included.
Security of Payment in the Australian Building and Construction Industry 5th Edition contains detailed, up-to-date coverage of the law, providing a highly portable reference for case law and legislation.