Oppression and Related Remedies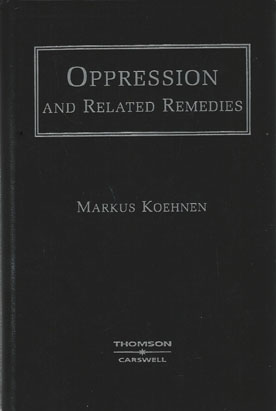 ISBN13: 9780459241384
ISBN: 0459241389
Published: September 2004
Publisher: The Carswell Company Ltd.
Country of Publication: Canada
Format: Hardback
Price: £164.00

Usually despatched in 1 to 3 weeks.
Oppression and Related Remedies is the definitive one-stop shop for shareholder litigation. Oppression and Related Remedies avoids case summaries and provides a coherent, principled analysis of complex and conflicting case law.
By highlighting conflicting case law and analyzing the factors that lead courts to one line of cases or the other, it provides an essential research tool that allows lawyers, judges, academics and students to access the law and to find, develop and sharpen arguments.
This text is more than simply a text on the oppression remedy. It provides detailed analysis of burgeoning related areas such as directors' liability and take-over bid litigation.
Includes separate chapters on:-
Origins of the Oppression Remedy
Standing
What is Oppression?
Common Categories of Oppression
Director's Duties
Take-Over Bids
Compulsory Acquisitions
Remedies
Just and Equitable Liquidation
Dissent and Appraisal Rights
Derivative Actions.