Oppenheim's International Law 9th ed: Volume 1 Peace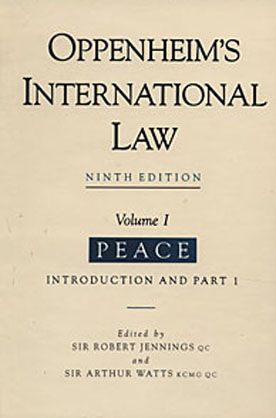 ISBN13: 9780582302457
ISBN: 0582302455
Published: July 1996
Publisher: Oxford University Press
Country of Publication: UK
Format: Paperback, 2 Parts (Hardback in 1992)
Price: £242.50

Volume 1 Peace is in 2 parts Volume 1: Introduction and Part 1 & Volume 2: Parts 2-4
First published in 1905/06 International Law or Oppenheim's International Law as it is widely known, has established itself as one of the number one reference volumes in the field of International Law.
This completely revised and updated ninth edition should be much welcomed in the field of International Law. It is nearly twice the length of the eighth edition and takes account of the increase in the scope and content of international law, and in the range of source material available. As far as possible, the volume takes account of developments up to the beginning of 1991, and it has been possible to incorporate some material relating to matters arising up to mid-1991.
Use has been made in particular of state and diplomatic practice, the judicial decisions of both national and international tribunals. The editors have also provided a summary of each chapter and footnotes on every page.
Publishing History of the 9th edition Originally published in by Longmans in hardback in 1992 and paperback in 1996. OUP then bought the rights in 2008 and reprinted, which is why some websites list it as 'first published' 2008.
Publishing History 1st edition 1905 : 2nd edition 1912 3rd edition 1920 : 4th edition 1928 5th edition 1937 : 6th edition 1947 7th edition 1948 : 8th edition 1955 Reprinted 1957, 1958, 1960, 1961, 1962, 1963, 1967 & 1974 9th edition 1992 (2 Volumes)