The Art of Cross-Examination 4th ed Revised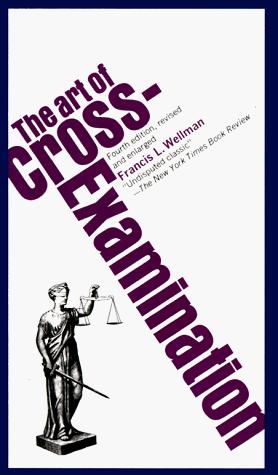 ISBN13: 9780684843049
ISBN: 0684843048
Published: November 1997
Publisher: Touchstone Simon & Schuster/ Harper Collins
Country of Publication: USA
Format: Paperback
Price: Out of print

For over one hundred years this work has reigned supreme in its field. It has instructed generations of budding attorneys, renewed the resources of courtroom veterans, sharpened the skills of inter- viewers, social workers, psychologists, and other professionals who use questioning in their day-to-day work. And it has entertained untold thousands of general readers who delight in the drama of the trial.
Drawing upon his own experiences and upon the brilliant achievements of such noted lawyers as Herbert C. Smyth, Lloyd Paul Stryker, George Z. Medalie, Elihu Root, and Frederic R. Coudert, among others, Francis L. Wellman explains and exemplifies the principles of questioning.
He quotes extensively from many memorable cases, utilizing them to illustrate both the manner and matter of cross-examination. He takes up the handling of the perjured witness and the expert, he underscores the importance of sequence, and he offers many insights into the psychology of the witness. He shows how knowing when to elicit information — and when not to — are part of the artistry of the advocate.
Francis L. Wellman, one of the great nineteenth-century trial lawyers, made his reputation in the musty New York court rooms of the 1880's and 1890's as assistant corporation counsel and assistant district attorney. He gained prominence in a number of celebrated criminal cases, including the notorious Carlyle Harris case. He became widely known for his spectacular coups in the cross-examination of witnesses, but he often emphasized that he depended not on trickery but on hard work and methodical preparation.
He was born in 1854, a direct descendant of Francis Lewis, third signer of the Declaration of Independence, and of Morgan Lewis, an early governor of New York. He died in 1942 at the age of eighty seven.