Society & Legal Change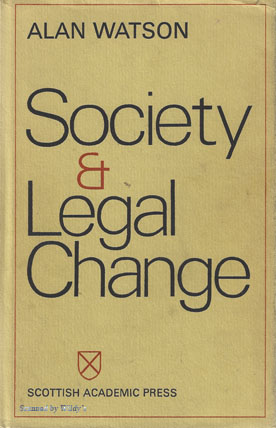 ISBN13: 9780707301372
ISBN: 0707301378
Published: January 1977
Publisher: Scottish Academic Press
Country of Publication: Scotland
Format: Hardback
Price: Out of print

In this edition of a classic work of comparative legal scholarship, Alan Watson argues that law fails to keep step with social change, even when that change is massive. To illustrate the ways in which law is dysfunctional, he draws on the two most innovative western systems, of Rome and England, to show that harmful rules continue for centuries.
To make his case, he uses examples where, in the main, 'the law benefits no recognizable group or class within the society (except possibly lawyers who benefit from confusion) and is generally inconvenient or positively harmful to society as a whole or to large or powerful groups within the society'.
Widely respected for his 'fearless challenge of the accepted or dominant view and his own encyclopedic knowledge of Roman law' ("The Encyclopedia of Historians and Historical Writing"), Watson considers the development of law in global terms and across the centuries.His arguments centering on how societies borrow from other legal systems and the continuity of legal systems are particularly instructive for those interested in legal development and the development of a common law for the European Union.
Author note: Alan Watson is Ernest P. Rogers Professor of Law and Distinguished Research Professor at the University of Georgia School of Law; he is the author or editor of some forty books, including "The Evolution of Western Private Law" and "Legal Transplants" (now in its second edition). Two collection of essays honoring Professor Watson's work have recently been published.