Comprehensive Criminal Procedure 3rd ed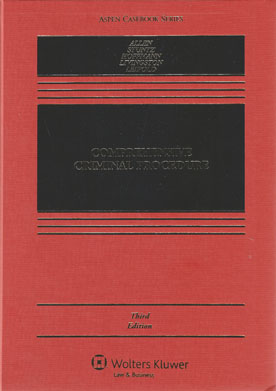 ISBN13: 9780735587786
Published: August 2011
Publisher: Aspen Publishers
Country of Publication: USA
Format: Hardback
Price: £145.00

Despatched in 13 to 15 days.
Written by an unparalleled team of authors with a wide range of backgrounds and expertise, Comprehensive Criminal Procedure 3rd ed is a sophisticated cases-and-notes book that covers all the main topics for comprehensive criminal procedure courses, including police practices, pretrial, trial, and appellate and collateral review.
The third edition has been updated throughout, and a number of chapters have been substantially revised to reflect recent developments. The authors have carefully edited all of the cases and notes to allow the addition of new material without significantly lengthening the book. In addition, Andrew Leipold, one of the nation's leading criminal procedure scholars, joins the author team, bringing a wealth of knowledge and teaching experience to the new edition.
Comprehensive Criminal Procedure 3rd ed retains the key features that have made it a classroom success:-
Comprehensive coverage and well-written notes.
Appropriate balance of explanatory text and secondary material.
Thematic organization, structured around important main themes
New to the Third Edition, which has been carefully edited with an eye to increased accessibility:-
Substantial revision of Chapter 3, Right to Counsel, fully incorporating recent and important developments in the areas of ineffective assistance and self-representation, and improving both content and organization of cases and notes throughout the chapter.
Reworking of Chapter 6, the Fifth Amendment, taking into account the Supreme Court's recent line of Miranda decisions, as well as the recent dismantling of Michigan v. Jackson doctrine regarding the Sixth Amendment right to counsel.
A more thematic approach to the adjudication half of the casebook (Chapters 8-17),
Addition of new Chapter 10, Pretrial Screening and the Grand Jury , focusing primarily on the grand jury and consolidating material that previously appeared in several different chapters.
Significant expansion and reorganization of Chapter 11, Scope of the Prosecution, which now includes venue, as well as speedytrial, joinder, and severance.
Up-to-the-minute treatment of Crawford doctrine in Chapter 14, The Jury and the Criminal Trial, covering the scope and meaning of the defendant's Sixth Amendment right to confront the witnesses against him.
Completely new and comprehensive coverage of Apprendi-Blakely-Booker doctrine in Chapter 15, Sentencing, reflecting both the legal and the practical consequences of applying the Sixth Amendment right to jury trial to sentencing factors.