The Devil's Advocate: The Unauthorised Biography of John Mortimer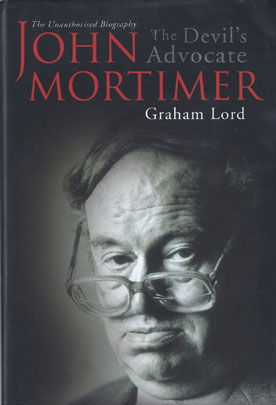 ISBN13: 9780752866550
ISBN: 0752866559
Published: August 2005
Publisher: Orion Publishing Co
Country of Publication: UK
Format: Hardback
Price: Out of print

Out of Print
John Mortimer was a promising barrister who married a successful novelist (Penelope Mortimer) and then started writing himself. At first he wrote plays, most famously the autobiographical A Voyage Round My Father, about his blind barrister father. Alec Guinness, Laurence Olivier and Michael Redgrave were among those who played the role.
But it was Mortimer's creation of Rumpole of the Bailey, the irrascible barrister created on TV by Leo McKern, which catapulted him to wider fame and fortune, as his career as a novelist and screenwriter took off. He is credited with the hugely successful TV adaptation of Evelyn Waugh's Brideshead Revisited (Olivier, Jeremy Irons, Anthony Andrews, Toyah Wilcox) and then Summers Lease (John Gielgud), based on his own story. Meanwhile he had become increasingly well-known as a lawyer.
His most famous case was his (initially unsuccessful) defence of two of the three editors of the underground magazine Oz on a charge of obscenity in 1971. In a profession dominated by conservatives, he became everyone's first thought when a barrister with liberal principles and left-wing political beliefs was required. He increasingly moved in (old) Labour circles.
The phrase 'champagne socialist' might have been invented for him. He divorced his first wife and married a second Penelope (Penny 2, as she became known). Their daughter is the actor Emily Mortimer. Graham Lord's biography is all the better for being unauthorised. Good stories abound; there are revelations aplenty.
The disclosure that he fathered Wendy Craig's love-child only reached the press as a result of Graham Lord's research. There is much more. This biography will provide the full, unvarnished story.