The Historical and Institutional Context of Roman Law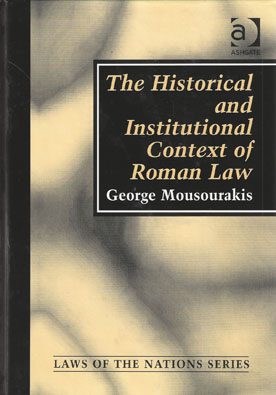 ISBN13: 9780754621089
ISBN: 0754621081
Published: January 2003
Publisher: Routledge
Country of Publication: UK
Format: Hardback
Price: £105.00

Usually despatched in 1 to 3 weeks.
Roman law forms an important part of the intellectual background to many of the legal systems currently in force in continental Europe, Latin America and other parts of the world.
This text traces the historical development of Roman law from the earliest period of Roman history up to and including Justinian's codification in the 6th century AD.
It examines the nature of the sources of law, forms of legal procedure, the mechanisms by which legal judgments were put into effect, the development of legal science and the role of the jurists in shaping the law.;The final chapter of the book outlines the history of Roman law during the Middle Ages and discusses the way in which Roman law furnished the basis of the civil law systems of continental Europe.
The book combines the perspectives of legal history with those of social, political and economic history. Special attention is given to the political development of the Roman society and to the historical events and socio-economic factors that influenced the growth and progress of the law.
Designed to provide a general introduction to the history of Roman law, this book should appeal to law students whose course of studies includes Roman law, legal history and comparative law. It should also prove of value to students and scholars interested in ancient history and classics.