Sir Edward Coke and the Elizabethan Age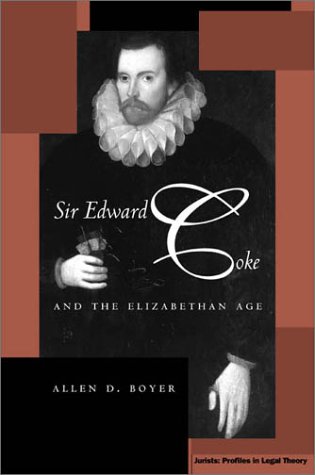 ISBN13: 9780804748094
ISBN: 0804748098
Published: June 2003
Publisher: Stanford University Press
Country of Publication: USA
Format: Hardback
Price: £60.00

Usually despatched in 1 to 3 weeks.
Sir Edward Coke (1552-1634), the first judge to strike down a law, gave us modern common law by turning mediaeval common law inside-out. Through his resisting strong-minded kings, he bore witness for judicial independence. Coke is the earliest judge still cited routinely by practising lawyers.;This book breaks new ground as the first scholarly biography of Coke, whose most recent general biography appeared in 1957, and draws revealingly on Coke's own papers and notebooks.
The book covers Coke's early life and career, to the end of the reign of Elizabeth I in 1603 (a second volume will cover Coke's career under James I and Charles I). In particular, this book highlights Coke's close connection with the Puritans of England; his learning, legal practice, and legal theory; his family life and ambitious dealings; and the treason cases he prosecuted.