Wills of the Archdeaconry of Sudbury, 1439-1474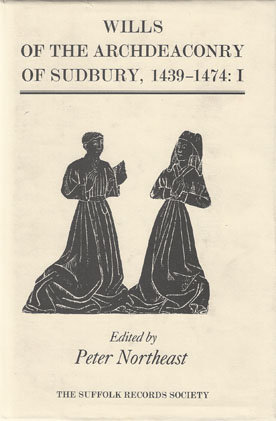 ISBN13: 9780851158112
ISBN: 0851158110
Published: May 2002
Publisher: Boydell & Brewer Ltd
Country of Publication: UK
Format: Hardback
Price: £25.00

Usually despatched in 1 to 3 weeks.
The making and registering of wills by ordinary people became widespread in East Anglia a century earlier than parts of midland and western England. It is of enormous value therefore to have one of the earliest surviving registers from an archdeaconry made available.
[The volume] provides us with a window into rural society in mid-fifteenth-century East Anglia. It was a society bustling with small farmers, craftsmen involved in the cloth industry, and other artisans and traders. The wills record their concern for religion, the local community and the future welfare of wives, children, godchildren and even servants.
There is a wealth of information here for the historian of religion, the family, material culture, agriculture and industry. This volume contains abstracts, in English, of nearly nine hundred wills made by residents of the western part of Suffolk in the mid-fifteenth century, together with a further five hundred 'probate sentences' - details of the granting of probate, without the associated wills.
These are the earliest surviving wills of ordinary inhabitants of that part of Suffolk, excluding the titled, the wealthy and the clergy. They illustrate in considerable detail the social conditions of the time, including housing and household possessions, landholding and farming patterns, and provision for the poor. They are especially rich in references to the religious practices of the day. The introduction outlines the probate system of the area at that time and examines the form and content of a medieval will.