The Law Reports 1865 – 2015 Anniversary Edition: ICLR 150 Years Creating Case History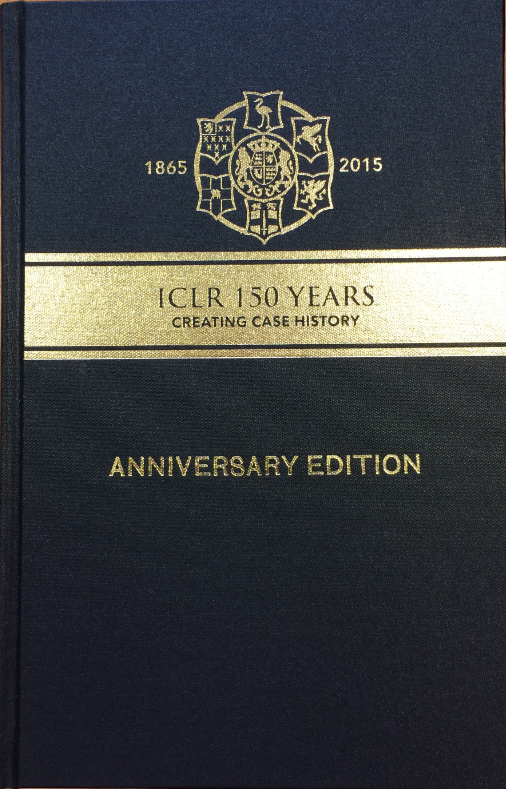 ISBN13: 9780852893142
Published: October 2015
Publisher: Incorporated Council of Law Reporting
Country of Publication: UK
Format: Hardback
Price: £30.00

Usually despatched in 1 to 3 weeks.
ICLR 150 Years – Creating Case History
The Incorporated Council of Law Reporting for England and Wales (ICLR) was founded in 1865, by the Inns of Court and the Law Society, on the recommendation of a committee of lawyers who were fed up at the erratic and disorganised way in which critical precedents were then being recorded. From the start it has been "making case history" by recording for posterity those cases which have changed or clarified the law, or were for some reasons "peculiarly instructive".
This book, published to mark the ICLR's sesquicentennial, or 150th anniversary, collects together for the first time the top 15 cases published in The Law Reports, as voted for by readers on its website, and discussed by Lord Neuberger of Abbotsbury, President of the Supreme Court, in a speech given at the launch on 6 October 2015.
They include such favourites as the one about the Carbolic Smoke Ball, the one about the Snail in the Ginger Beer, and the case that gave rise to the mysterious legal concept of "Wednesbury unreasonableness".
On a more serious note, the cases demonstrate how the relationship of the judiciary and the government has changed over time, with judges now much more likely (as in the so-called "Belmarsh case" of 2004) to defy the attempts of a home secretary to detain foreigner of hostile intent without trial, than they were in World War II, when it was the lone dissenting voice of Lord Atkin who declared "that the judges are no respecters of persons and stand between the subject and any attempted encroachments on his liberty by the executive".
Among the other cases selected by ICLR's readers are key decisions on a company's "veil of incorporation" as a separate legal person, the "golden thread" of the presumption of innocence in criminal law, the creation (by one Denning J) of the doctrine of promissory estoppel, the reversal of the marital rape exemption, the surgical separation of conjoined twins, and the rule permitting resort to Parliamentary papers to resolve statutory ambiguity.
Introducing the cases are a series of essays by ICLR editors and by two external contributors, Guy Holborn, Librarian of Lincoln's Inn and Professor Paul Mitchell, of UCL. In his foreword, Lord Thomas of Cwmgiedd CJ says:
"The cases in this anniversary volume illustrate not only the significant contribution that law reporting of the highest quality has made to the delopment of the common law, but how the common law has incrementally developed over the past 150 years."