Legal Research: A Practitioner's Handbook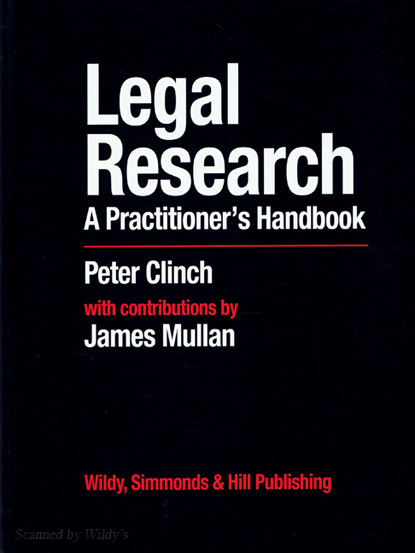 ISBN13: 9780854900640
Published: June 2010
Publisher: Wildy, Simmonds and Hill Publishing
Country of Publication: UK
Format: Hardback
Price: Out of print

"excellent value for money, an affordable addition to any collection"
Legal Information Management
This comprehensive reference work is specifically aimed at busy practitioners (solicitors, barristers and professional support lawyers), particularly those who do not have the benefit of access to a law librarian or information officer.
Legal Research: A Practitioner's Handbook provides practical advice on every aspect of effective legal research: problem analysis, selecting and finding the best sources, and presenting results effectively.
Part A covers problem identification and analysis, followed by advice on how to select the best sources and formats (paper or electronic) for research. Part B deals with the information most frequently sought by practitioners, listing sources with analytical comments and, for a selection of the most complex, 'how to use' instructions developed to a standard template.
Jurisdictional coverage includes England, Wales, Scotland, Northern Ireland and the European Union, with the addition of information on key sources in European human rights and international law. Part C details sources on how to make the presentation of the results of legal research more effective.
These three parts are supplemented with other information, mainly in the extensive appendices providing:-
guidance on where to find information not available within your firm or chambers
Indexes to abbreviations for Acts, journals and law reports
a glossary of technical terms used in legal research
a summary of the practice directions, statements and decisions of the UK courts relating to legal research
a table of guidance on how to devise more effective searches on the three most popular commercial databases
a popular names index for legislation and cases relating to the UK and the EU and
advice on purchasing legal information, whether print or online.