Law & Society: Which is to be Master?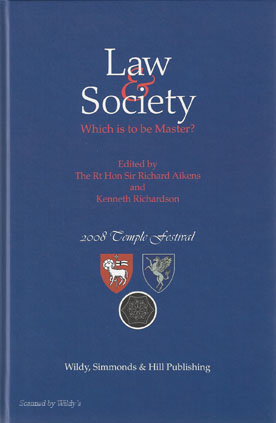 ISBN13: 9780854900886
Published: May 2011
Publisher: Wildy, Simmonds and Hill Publishing
Country of Publication: UK
Format: Hardback
Price: £19.95

Law and Society: Which is to be Master? was a series of five symposia held throughout 2008 as part of the year-long festival celebrations of the grant, by James VI and I, of the freehold of the land around the Temple Church to the two Inns of Court: the Honourable Societies of the Inner and the Middle Temple.
In ancient Greece and Rome, a symposium was a convivial meeting for drinking and intellectual conversa­ tion. At these symposia, that tradition was respected: following the speeches, the audience took part in lively debate with the speakers, both in the debating chamber and at the receptions which followed.
This book presents the speeches given by nineteen distinguished thinkers of our age at the symposia about how the law relates to different aspects of our society: to science, religion, politics, commerce and international relations.
In addition, various articles about law and society in the ancient world and in the seventeenth century, which were commissioned from specialists in their fields to accompany each of the five symposia, are also printed here together with an explanatory Introduction.
The symposia and this publication are generously sponsored by the
Alexander S Onassis Public Benefit Foundation